First and Only Weekly Online Fanzine Devoted to the Life and Works of Edgar Rice Burroughs
Since 1996 ~ Over 10,000 Webpages and Webzines in Archive
Volume 0349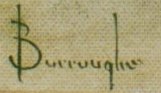 Presents
JOHN COLEMAN BURROUGHS INFLUENCES I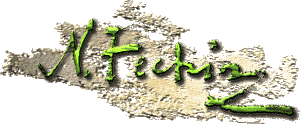 Nicolai Fechin
Visit Gallery II at ERBzine 0349a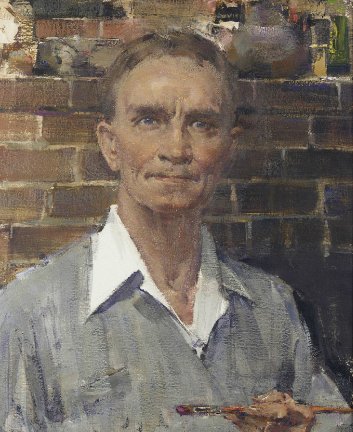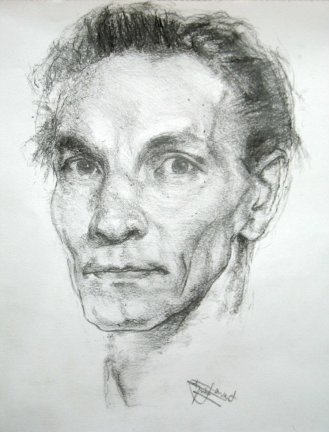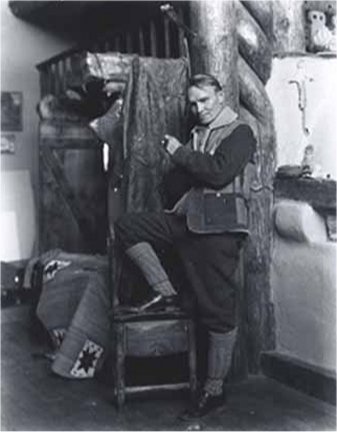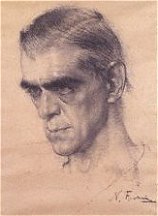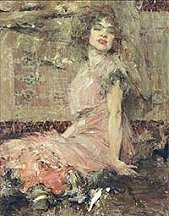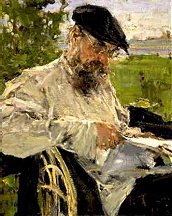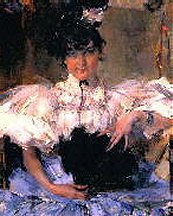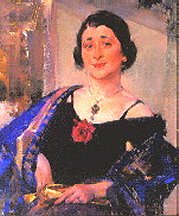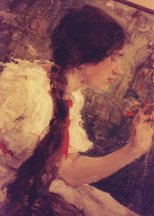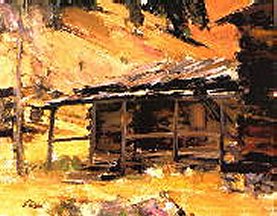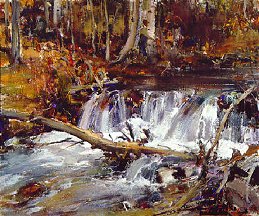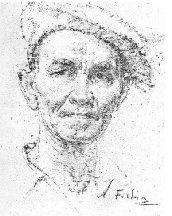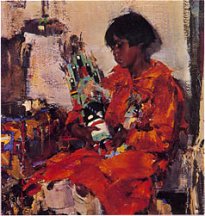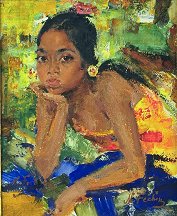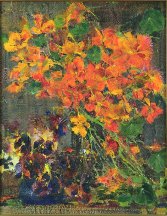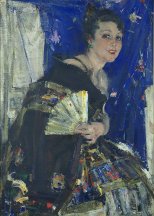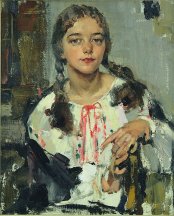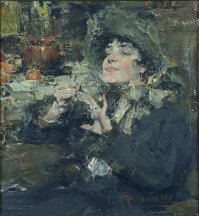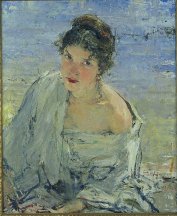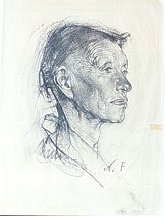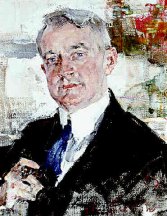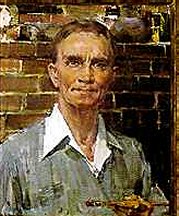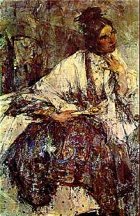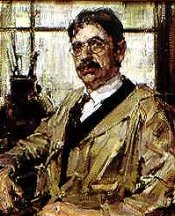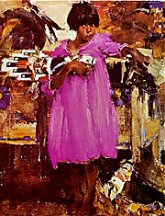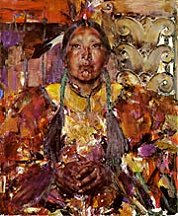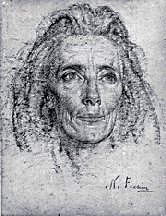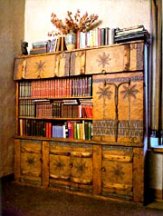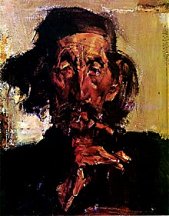 Nicolai Ivanovich Fechin (1881-1955) was born in Kazan, a city on the Volga River rich with mingled Russian and Mongol cultures, and his artistic talent was recognized early in life. By the age of 11, he was drawing designs that his father used in the construction of altars and he enrolled in the Kazan School of Art at the age of 13. After training at Kazan, Fechin entered the Imperial Academy Petrograd (St. Petersburg) in 1900. There, he was profoundly influenced by the psychologically penetrating portraits of his teacher, Ilya Repin (1844-1930), Russia's preeminent realist painter. Another major influence was Malavin, a prior instructor at the Academy who was known for "his wide, nervous brushstroke." In 1909, after graduation with high honours from the academy, Fechin received the Prix de Rome scholarship that enabled him to travel to Rome, Vienna, and Paris. One of Fechin's submissions to the 1910 International Exhibition in Munich was awarded a gold medal and, in the same year, the artist was invited to send paintings to the annual International Exhibition held at the Carnegie Institute in Pittsburgh.

He then returned to Kazan where he taught for ten years and married the daughter of the director in 1913. During the Bolshevik Revolution many of his students achieved posts in the new government that allowed them to offer a degree of protection to Fechin and his wife, Alexandra, and daughter, Eya. He was well known outside of Russia from canvases sent to Western exhibitions, and with the assistance of many American friends and patrons, he emigrated to New York in 1923. His work was immediately accepted and awarded in the US. In 1927, he moved to Taos, New Mexico for health reasons where he was soon immersed in designing and decoratively carving his new house and in using bold colours to capture the Pueblo life around him. He returned to New York with daughter Eya after his 1933 divorce, but moved to Southern California in the late '40s. From his California base, he travelled extensively through the SW, Mexico, Japan and the Pacific where he found inspiration for his work. Fechin taught small groups in his Santa Monica studio and it was here that John Coleman Burroughs became a favourite and devoted student. They went on many painting expeditions through the SW and Mexico and participated in many art shows in these areas. Their shared love of the indigenous cultures they saw in these travels inspired their art, and the combination of that love and their use of powerful brushstrokes made for memorable canvases. Nicolai Fechin died in Santa Monica in 1955.




BIOGRAPHICAL BOOK DISPLAYING MUCH OF FECHIN'S WORK
NICOLAI FECHIN: The Art and the Life
By Galina P Tuluzakova.

A beautiful, first edition, newly off the press. THE definitive book on Fechin's work, life and art, produced in a small edition by his own heirs and not available in the usual places. Amazing illustrations and numerous archival photos published for the first time. Many paintings, drawings and images of never before published works, while also covering some of his best-known works from previous collections. Detailed text by the Russian Fechin scholar, Galina Tuluzakova.

Here is a well-written overview of Fechin from Wikipedia: Nicolai Ivanovich Fechin, 1881 (Kazan, Russia) – 1955 (Santa Monica, California) - was a Russian-American painter known for his portraits and works featuring Native Americans. After graduating with the highest marks from the Imperial Academy of Arts and traveling in Europe under a Prix de Rome, he returned to his native Kazan, where he taught and painted. He exhibited his first work in the United States in 1910 in an international exhibition in Pittsburgh, Pennsylvania.

After immigrating with his family to New York in 1923 and working there for a few years, Fechin developed tuberculosis and moved West for a drier climate. He and his family settled in Taos, New Mexico, where he became fascinated by Native Americans and the landscape. His best work while in the United States was of these elements. The adobe house which he renovated in Taos is listed on the National Register of Historic Places and is used as the Taos Art Museum. [Much of the furniture and hand-carved works from his home are reproduced in this new book.] After leaving Taos in 1933, Fechin eventually settled in southern California.

Other John Coleman Burroughs influences:

Edgar Rice Burroughs


J. Allen St. John


Frederic Taubes
(1900 - 1981) (Austrian)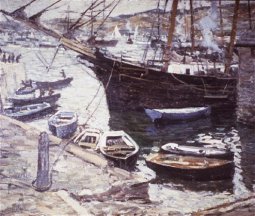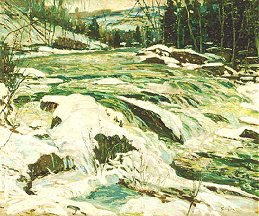 Walter Elmer Schofield (1867-1944)
VISIT OUR FECHIN GALLERY II
Featuring Larger Image Art
Visit the Official John Coleman Burroughs Tribute Site
www.johncolemanburroughs.com





Volume 0349



BILL HILLMAN
Visit our thousands of other sites at:
BILL and SUE-ON HILLMAN ECLECTIC STUDIO
ERB Text, ERB Images and Tarzan® are ©Edgar Rice Burroughs, Inc.- All Rights Reserved.
All Original Work ©1996-2006/2014 by Bill Hillman and/or Contributing Authors/Owners
No part of this web site may be reproduced without permission from the respective owners.