---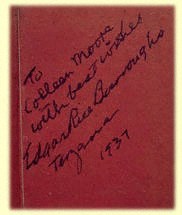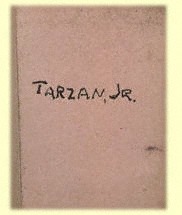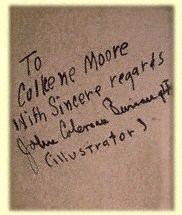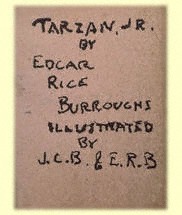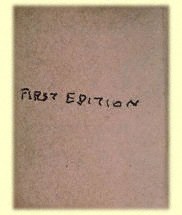 TARZAN, JR. BY EDGAR RICE BURROUGHS
ILLUSTRATED BY J.C.B & E.R.B.
FIRST EDITION


Chapter 1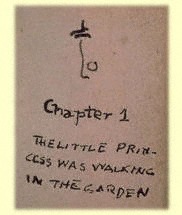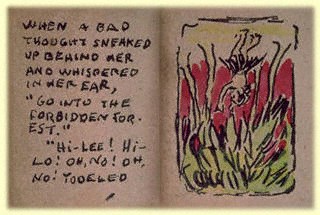 The little princess was walking in the garden when a bad thought sneaked up behind her and whispered in her ear, "Go into the forbidden forest." "Hi - Lee! Hi - Lo! Oh, No! Oh, No!" yodeled
FACING PAGE ILLUSTRATION: BOY IN FOREST
---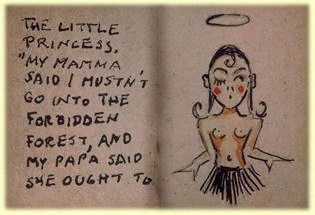 the little princess, "My Mama said I mustn't go into the forbidden forest, and my papa said she ought to

ILLUSTRATION: FEMALE IN A GRASS SKIRT, WINKING
---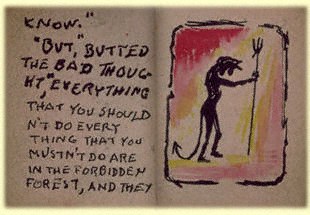 know." "But, but" butted the bad thought, "Everything that you shouldn't do, every thing that you mustn't do, are in the forbidden forest, and they

ILLUSTRATION: HALF-HUMAN, HALF-ANIMAL WITH PITCHFORK
---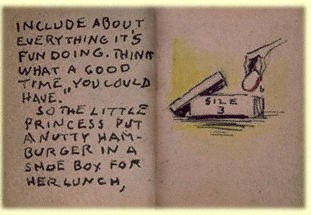 include about everything it's fun doing. Think what a good time you could have."

So the little princess put a nutty hamburger in a shoe box for her lunch,

ILLUSTRATION: BOX, NUMBERED SIZE 3 WITH HAND PUTTING HAMBURGER INTO THE BOX
---

vaulted over the garden wall and went into the forbidden forest.

ILLUSTRATION: SIGN THAT SAYS "FORBIDDEN FOREST - KEEP OUT

Chapter 2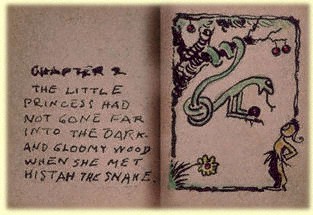 The little princess had not gone far into the dark and gloomy wood when she met Histah the snake.
ILLUSTRATION: SNAKE HANGING FROM A TREE WITH A LITTLE GIRL LOOKING UP

---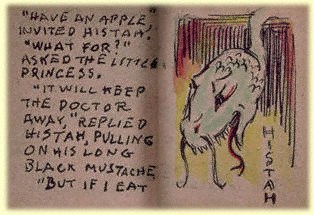 "Have an apple," invited Histah. "What for?" asked the little princess. "It will keep the doctor away," replied Histah, pulling on his long black mustache. "But if I eat

ILLUSTRATION: FACE OF A SNAKE WITH WORD "HISTAH"
---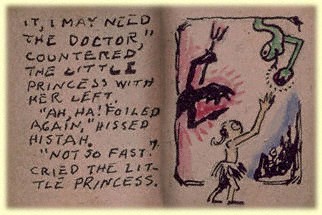 it, I may need the doctor," countered the little princess with her left. "Ah, ha! Foiled again," hissed Histah. "Not so fast," cried the little princess.

ILLUSTRATION: SNAKE, GIRL, AND HALF-MAN, HALF-ANIMAL WITH PITCHFORK
---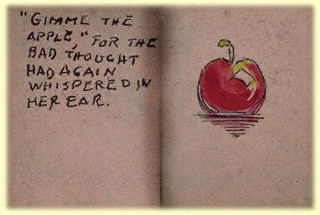 "Gimme the apple," for the bad thought had again whispered in her ear.

ILLUSTRATION: APPLE



Chapter 3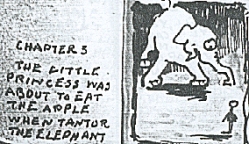 The little princess was about to eat the apple when Tantor the elephant
ILLUSTRATION: ELEPHANT WITH THE GIRL
---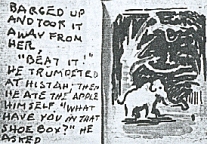 barged up and took it away from her, "Beat it!" he trumpeted at Histah. Then he ate the apple himself. "What have you in that shoe box?" he asked.

ILLUSTRATION: ELEPHANT IN THE FOREST
---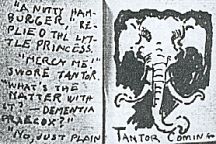 "A nutty hamburger," replied the little princess. "Mercy me!" swore Tantor. "What's the matter with it? -- Dementia praecox?" "No, just plain

ILLUSTRATION (B&W): ELEPHANT'S HEAD - ENTITLED: "TANTOR COMING
---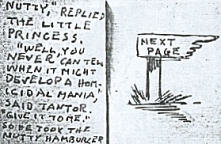 "Nutty," replied the little princess.

"Well, you never can tell when it might develop a homicidal mania," said Tantor. "Give it to me." So he took the nutty hamburger

ILLUSTRATION: SIGN POINTING: "NEXT PAGE"
---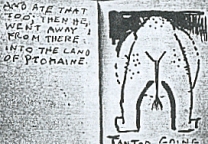 and ate that too. Then he went away from there into the land of ptomaine.

ILLUSTRATION (B&W): ELEPHANT'S HIND QUARTERS ENTITLED: "TANTOR GOING"

Chapter 4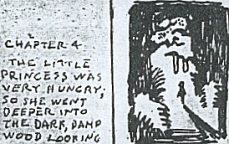 The little princess was very hungry; so she went deeper into the dark, damp wood looking
ILLUSTRATION (B&W): FOREST WITH LITTLE GIRL
---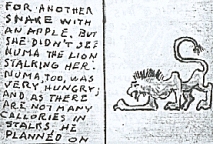 for another snake with an apple. But she didn't see Numa the lion stalking her. Numa, too, was very hungry; and as there are not many callories (sic) in stalks, he planned on

ILLUSTRATION: LION
---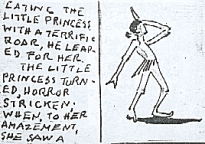 eating the little princess. With a terrific roar, he leaped for her.
The little princess turned, horror stricken; when, to her amazement, she saw a

ILLUSTRATION: VIEW OF PRINCESS
---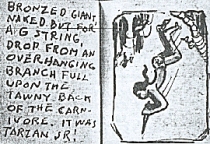 bronzed giant, naked but for a G string, drop from an overhanging branch full upon the tawny back of the carnivore. It was Tarzan Jr.!

ILLUSTRATION: TARZAN, JR. JUMPING FROM A TREE
---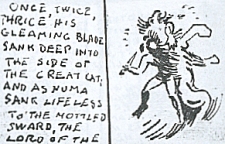 Once, twice, thrice his gleaming blade sank deep into the side of the great cat; and as Numa sank lifeless to the mottled sward, the Lord of the

ILLUSTRATION: BOY ATTACKING LION
---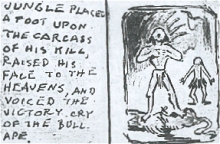 Jungle placed a foot upon the carcass of his kill, raised his face to the heavens, and voiced the victory cry of the bull ape.