TREASURE OF THE BLACK FALCON
by John Coleman Burroughs
Ballantine Books, Inc. NY
U6085. 1967
Paper covers. 4 1/4"x7"
256 pp. 75 cents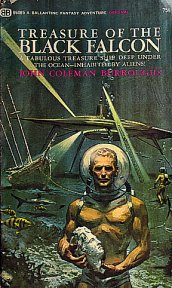 A Review by Al Howard
Featured in the Gridley Wave
Issue #22 ~ May 1967
Newsletter of the
Burroughs Bibliophiles
This story is one which can be added to the still comparatively slim shelf of marvelous undersea adventure. With the publication of the long awaited Treasure of the Black Falcon" it is a pleasure to welcome the Burroughs by-line on a new book once again. John Coleman writes with some inevitable echoes of Edgar Rice in this science fantasy novel.

What starts out as a routine treasure hunt in a submarine of advanced design turn into a true "voyage to the bottom of the sea". The sub is caught up in a powerful under ocean current and swept down some 3500 fathoms to a great air-filled crater. There the treasure hunters encounter a strange race of telepathic creatures from interstellar space, the Jogulars, whose individual members are each a giant brain. These brains, when in the embryo form, take over the bodies of newly drowned men and animals, eventually replacing them with solid brain tissue which has become physical simulacra of the deceased. Nearly immortal, the brain men, with all the instincts, memories and emotions of the former humans feel that they really are that human or animal, as the case may be.

The underwater crater realm of the brain men is a "lost world" to rank with Caspak. Our explorers arrive in time to be caught up in the middle of a factional fight between ancient Roman and Georgian British brain men. Some members of the submarine crew, dying from various causes, including the violent, are resurrected to a strange after-life, and provide the eventual balance of power when it is needed. For romance there is the love of the skipper of the sub and its girl co-owner, who is incidentally the descendant of the captain of the sunken treasure vessel and now the leader of the British brain men.

"Treasure of the Black Falcon" is a straightforward and unabashed adventure story, whose sole purpose is to entertain, and it succeeds in that endeavor more often than not. You must take it for what it is. It has no social significance, points no moral, and neither poses nor solves any problems. The sub crew meet with some highly improbably natural phenomena, both at the bottom of the sea and in the crater world. Science fiction fans may get mad. Actually, while the reader will be apt to find the whole thing outrageously unbelievable he will find himself hooked into reading on. There are no outstanding strong characters, and a few superfluous ones, particularly the stowaway mute, Bucky, who is killed off early to no particular purpose.

Burroughs Bibliophiles should need no urging to buy and read this book, and they are sure to enjoy it.