and
DANTON BURROUGHS
Present
Volume 1759


REX MAXON'S SUNDAY TARZAN STRIPS II
PART II: July 5, 1931 - September 27, 1931
---
Click opening panels to see each week's page
March through June are featured in JBC 1958
---
July 1931

17: THE COMING OF
THE PIRATES!
1931.07.05


18: THE FIGHT FOR
THE PIRATE GOLD
1931.07.12


19: ABOARD
THE CORSAIR
1931.07.19


20: THE FIGHT FOR
THE TREASURE!
1931.07.26
---
August 1931
---

21: THE ESCAPE
OF TARZAN!
1931.08.02


22: BOB TO
THE RESCUE
1931.08.09


23: PIRATES
TO OVERCOME
1931.08.16


24: FIGHTING
THROUGH
1931.08.23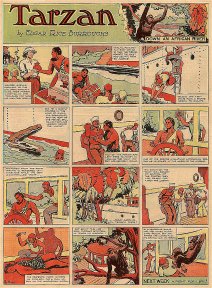 25: DOWN AN
AFRICAN RIVER
1931.08.30

---
September 1931 Conclusion
---

26: A FIGHT
FOR LIFE
1931.09.06


27: MAN
AGAINST BEAST
1931.09.13


28: THE ONRUSHING
HORDE
1931.09.20


29: TERROR FROM
THE SKIES
1931.09.27

Rex Maxon's Last Page

Transition to Hal Foster Art
26: A FIGHT FOR LIFE 1931.09.06
27: MAN AGAINST BEAST 1931.09.13
28: THE ONRUSHING HORDE 1931.09.20
29: TERROR FROM THE SKIES ~ 31.09.27

THE REX MAXON TRIBUTE PAGES IN ERBzine
For research reference only.
Not for download or duplication.
Copyright ERB, Inc.
The Worlds of Edgar Rice Burroughs


Send all correspondence to
WEBMASTER: BILL HILLMAN
ERB Text, ERB Images and Tarzan® are ©Edgar Rice Burroughs, Inc. and ©United Feature Syndicate, Inc. - All Rights Reserved.
Trademarks JOHN CARTER, WARLORD OF MARS ~ BARSOOM ~ TARZAN
and all associated characters and their distinctive likenesses are owned by ERB, Inc.
No part of this Web site may be reproduced without permission.