Presents
Volume 1192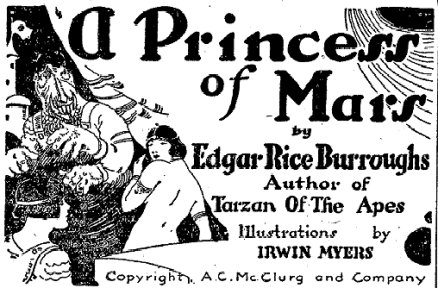 A 1921 Newspaper Serialization
with Illustrations by
Irwin Myers
with Links to Full-Sized Newspaper Pages
Reprinted from the ERBzine Site
Edgar Rice Burroughs

This writer has led a life experience calculated to develop imagination and the ability to delineate adventure and romance.

He has been a soldier in the regular army, a gold miner in Oregon, a cowboy and storekeeper in Idaho, a policeman in Salt Lake City, a sales manager in Chicago and in 1917 was major of infantry in the Illinois Reserve Militia.

About 1912 he took up writing as an experiment and produced the first of the "Tarzan" stories. It was instantly successful as have been some six or eight novels which succeeded it. Today, he stands alone in this country as an author of thrilling, purely imaginative fiction.

A Princess of Mars, one of his most fascinating creations, has been selected for serial reproduction in this publication. Do not miss the opening installment.

A Princess of Mars is the story of another world, curiously captivating in its romantic qualities and in the originality of its conception. The spirit of adventure carried beyond earth, into the realms of space.

No one but the author of the "Tarzan" tales has an imagination sufficiently bold to create such a narrative and to make it charming. It is weird, bewildering and fascinating. So unusual are the characters and episodes that the reader falls under their spell and finds himself viewing as it were, a pageant of happenings in another sphere.


(Missing Text ~ Art Only)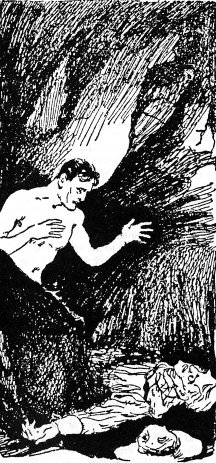 For there I lay clothes and yet here I stood,
but naked as the minute of my birth.

HUMESTOWN, IOWA, NEW ERA ~ May 4, 1921
STRANGE PEOPLE AND WAYS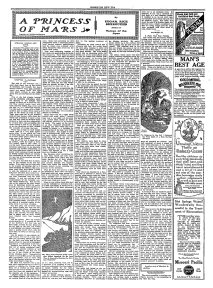 My effort was crowned with a success
that appalled me no less than it seemed
to surprise the Martian warriors.


In response to her call I obtained
my first sight of a new Martian wonder.
HUMESTOWN, IOWA, NEW ERA ~ May 11, 1921
A FIGHT FOR LIFE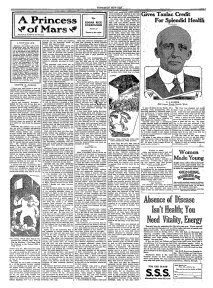 The thing, which more nearly resembled
our Earthly men than it did the Martians
I had seen, held me pinioned to the ground
with a huge foot.


Between these walls
the little Martians scampered,
wild as deer.

HUMESTOWN, IOWA, NEW ERA ~ May 18, 1921
ARE YOU HUMAN?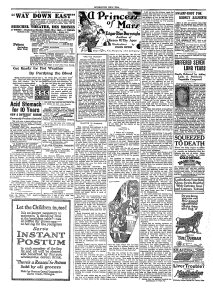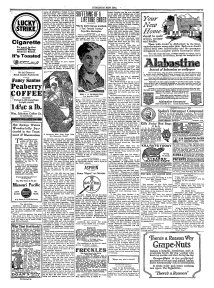 And the sight which met my eyes
was that of a slender, girlish figure,
similar in every detail to the
Earthly women of my past life.


I delivered blow upon blow
upon his enormous chest.

HUMESTOWN, IOWA, NEW ERA ~ May 25, 1921
JOHN IN LOVE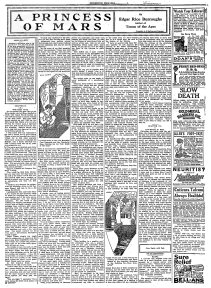 I looked down at her,
her beautiful face upturned,
and her wonderful eyes opening up
the very depth of her soul.


Dejah Thoris and I then fell to examining
the architecture and decorations of
the beautiful chambers of the building
we were occupying.
HUMESTOWN, IOWA, NEW ERA ~ June 1, 1921
I AM HAPPY HERE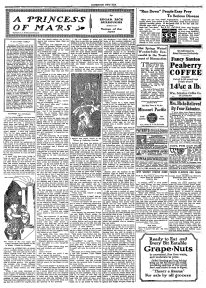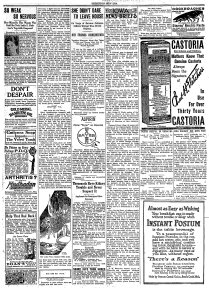 The touch of my arm upon
her naked shoulder had spoken
to me in words I could not mistake.


I sought ouit Dejah Thoris
in the throng
of departing chariots


Her lithe form
racked with sobs.
---
To be Continued in 1193
Send all correspondence to
WEBMASTER: BILL HILLMAN


ERB Text, ERB Images and Tarzan® are ©Edgar Rice Burroughs, Inc.- All Rights Reserved.
No part of this Web site may be reproduced without permission.