Presents
Volume 1193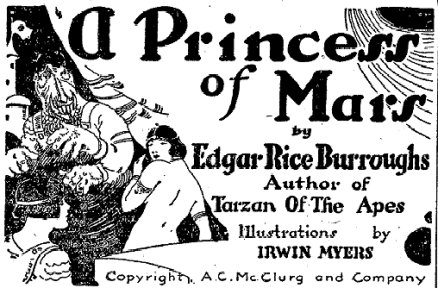 A 1921 Newspaper Serialization
with Illustrations by
Irwin Myers
with Links to Full-Sized Newspaper Pages
Part II
(Click on the thumbnail images of the pages for full screen views)

HUMESTOWN, IOWA, NEW ERA ~ June 8, 1921
"I Am Yours."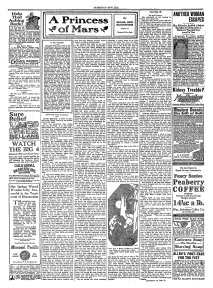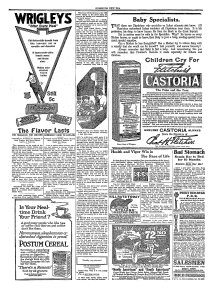 "You are a queer mixture of child and man,
of brute and noble. I only wish that
I might read your heart."


She drew upon the marble floor
the first map of Barsoomian territory
I had ever seen.
HUMESTOWN, IOWA, NEW ERA
June 15, 1921
Recaptured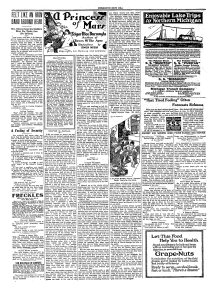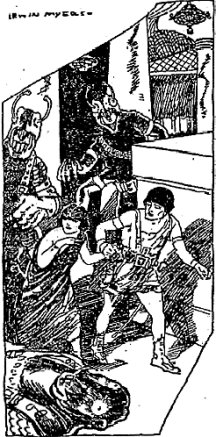 In the same deathly silence I grasped
Dejah Thoris by the hand.
HUMESTOWN, IOWA, NEW ERA ~ June 22, 1921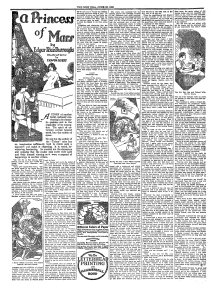 I never before had seen
the green Martian warriors in battle.

During the day I was pitted
against first men then beasts.


The old man sat and talked
with me for hours
HUMESTOWN, IOWA, NEW ERA ~ June 29, 1921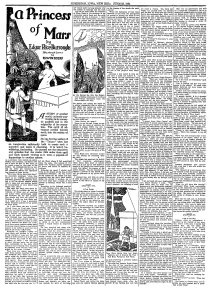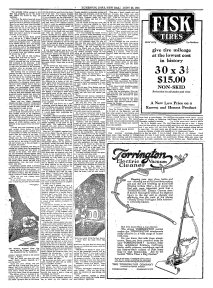 As we neared the city we discovered
a mighty concourse of civilians
and troops assembled on the plains
before the city.


They were brave men and noble
fighters and it grieved me that I had
been forced to kill them.

.

The weapon dropped from his grasp
and my fingers choked off
his attempted cry for assistance.


"Heat the irons; with my own hands
I shall burn his eyes from his head."
HUMESTOWN, IOWA, NEW ERA ~ July 6, 1921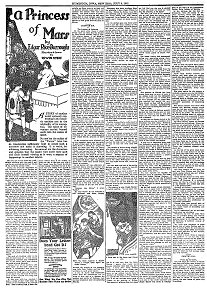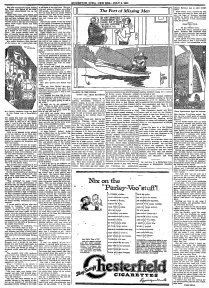 With my back against a golden throne
I fought once again for Dejah Thoris.


I took her in my arms
and kissed her.

In a golden incubator upon the roof
of our palace lay a snow white egg.


I sank unconscious
upon the grouind
.

---
Continued from 1192
Send all correspondence to
WEBMASTER: BILL HILLMAN


ERB Text, ERB Images and Tarzan® are ©Edgar Rice Burroughs, Inc.- All Rights Reserved.
No part of this Web site may be reproduced without permission.