DANTON BURROUGHS
Presents

.

TARZANA TREASURE VAULTS
Archive Room 1


OUT OF TIME'S ABYSS
by
Edgar Rice Burroughs
from
Urbanite ~ Vol. 1, No. 10 ~ April 4, 1924
Until now this article has been long sought after by ERB fans.
I have recently retrieved it from my father's archive and it is presented here as a fine example of
my grandfather's sense of humor and of his very colorful past. We've displayed it in text format
accompanied by full-sized scans of the actual pages.
http://www.johncolemanburroughs.com/mag/1144.html

It is with great pride that I share a rare special booklet from 1863,
written by my father's namesake -- John M. Coleman --
during the darkest moments of those darkest of times in our nation's history.

An Oration On The Crisis and Its Causes ~ July 4, 1863
by Hon. John M. Coleman
http://www.johncolemanburroughs.com/mag/1175.html

A Potpourri of Letters & Photos
from
The Personal Correspondence File of
John Coleman and Jane Ralston Burroughs


Edgar Rice Burroughs Personal Library
1,100 Titles ~ 80 Web Pages
An Illustrated and Documented List
of the volumes contained in ERB's Personal Library
1875-1950
http://www.ERBzine.com/dan

From the JCB Correspondence File
Letters written almost 40 years ago
by JCB and well-known personalities in the ERB Cosmos:
Remember These Guys?
Vernell Coriell: Burroughs Bibliophiles Founder
Charles N. Reinsel: Norb's Notes Fanzine
Rev. Henry Hardy Heins: Golden Anniversary Bibliography of ERB
Allan Howard: ERB Scholar & Writer
Jim Thompson: ListMeister ERBCOF ListServ
Stan Vinson: Renowned Collector ~ Burroughs Bibliophile President
Clarence B. (Bob) Hyde: President Burroughs Bibliophiles & Longtime Collector
Robert R. Barrett: ERB Researcher and Writer
Maurice B. Gardner: Author
Bob Horvath: Artist
Dum-Dum 1968: Oakland, California

Part 3 of a series of features on John Coleman's Novel
Treasure of the Black Falcon
Al Hanson's Gridley Wave Review & Fan Letters
JCB's last novel, Treasure of the Black Falcon, was published by Ballantine Books, Inc., March 1967.
It had been written twenty years earlier but was shelved and forgotten after numerous rejections.
During the Burroughs boom of the '60s, however, brother Hulbert came across the manuscript and
submitted it to Ballantine Books where it was eagerly accepted.
http://www.johncolemanburroughs.com/mag/1173.html



ERB Discusses Books & Collecting
Correspondence between Edgar Rice Burroughs and Herbert Hungerford of
"The American News Trade Journal."
These letters lead up to an article by my grandfather in which
he expresses his love of books and the collecting of books,
as well as his views on book marketing.
He also shares entertaining anecdotes about his early years as a bookstore owner
in Pocatello, Idaho and as a door-to-door book salesman in Chicago and Oak Park.


A special collage that JCB created and sent to longtime ERB fan
Sgt. Frank E. Shonfeld of the British Army on April 21, 1941.
This was done at the request of ERB, then living in Hawaii,
to show his appreciation for Shonfeld's support over the years.

The collage features some of the major ERB characters that JCB had illustrated:
Tarzan ~ John Carter ~ Dejah Thoris ~ Tars Tarkas ~ David Innes
The dedication on the artwork reads:
"Best Regards and Lots of Luck
to Sgt F. E. Shonfeld
from John Coleman Burroughs 4-21-41"
http://www.johncolemanburroughs.com/mag/collagv8.jpg


From August 15, 1969
John Coleman Burroughs
Comments on the Arthur Weiss Screenplay:
Tarzan of the Apes

GALLERY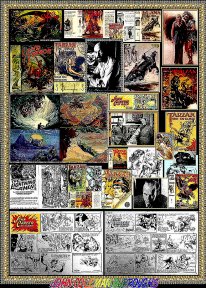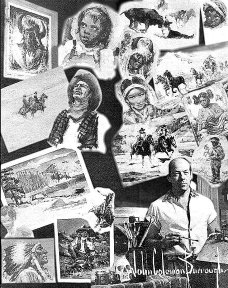 Two JCB Posters from Jerry O'Hara
See a Rare 1920s Tarzana Ranch Brochure

Send all correspondence to
WEBMASTER: BILL HILLMAN



ERB Text, ERB Images and Tarzan® are ©Edgar Rice Burroughs, Inc.- All Rights Reserved.
ERBzine Material is copyrighted by the respective contributors and/or Bill Hillman
No part of this Web site may be reproduced without permission.